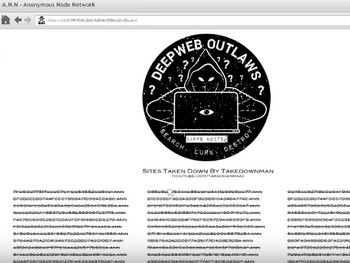 Takedownman is a website on the Deep Web dedicated to the Takedownman , a real-life famous Youtuber and self-proclaimed "Deep Web Outlaw".
The site lists 162 crossed out URLs, which are supposedly all the Deep Web websites the Takedownman has gotten taken down. The site plays Neckbreaker by DOPETONES, which is used in Takedownman's official intro .
Sometimes one of the URLs in the center column is an actual clickable link which leads to a hidden key.
The number of URLs is one of the questions on The Gatekeeper's quiz.
Community content is available under
CC-BY-SA
unless otherwise noted.