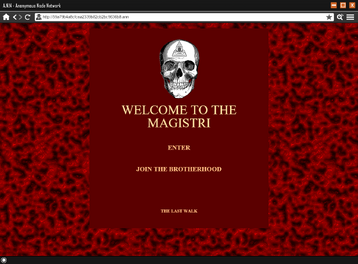 The Magistri is a website on the Deep Web in Welcome To The Game II. It involves a secret cult that may only be joined by those who are given an invite by a person who is already a member of the brotherhood.
The home page features a skull with an Eye of Providence symbol on the forehead.
THE LAST WALK page has a set of images such as a pentagram pendant and a ritual sacrifice, along with the following text.
ENTER
THEIR LAST WALK
THE LAST STEPS OF PURITY
MAY YOU BE SHOWERED BY RICHES
MAY YOU BE BLESSED WITH GLORIOUS SEX
MAY YOU FIND UNENDING POWER WITHIN THESE HALLS