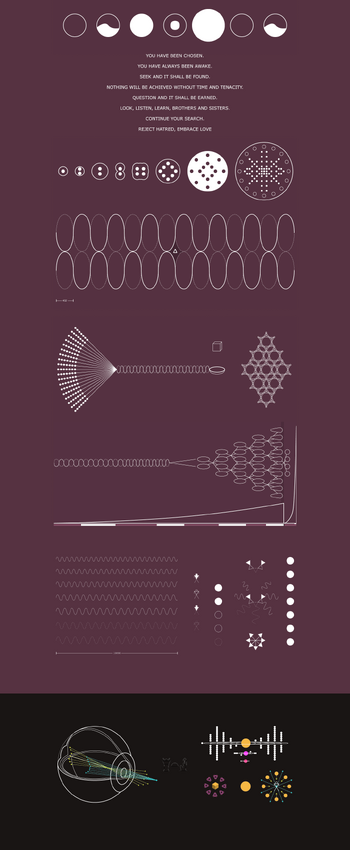 ChosenAwake is a website on the Deep Web which appears to be a puzzle consisting of multiple diagrams of geometric figures. Solving the puzzle reveals a Deep Wiki II URL.
The website's introduction (seen in the right image as well as below, written out) seems to be some kind of poem of incredibly vague writing, about the reader being "chosen" and "awake". It is likely behind some kind of existential-centered cult, and while its goals and what "IT" refers to in "SEEK AND IT SHALL BE FOUND" are too vague to analyze, and the fact that the site hides a Deep Wiki II URL, it's possible that it was made specifically to guide the Player to Red Room.
Note that sometimes players can miss the last clickable spots at the bottom of the page, which may be:
-blue dots close to the "eyeball" on the left
-small white circles close to the yellow balls on the right side
YOU HAVE BEEN CHOSEN.
YOU HAVE ALWAYS BEEN AWAKE.
SEEK AND IT SHALL BE FOUND.
NOTHING WILL BE ACHIEVED WITHOUT TIME AND TENACITY.
QUESTION AND IT SHALL BE EARNED.
LOOK, LISTEN, LEARN, BROTHERS AND SISTERS.
CONTINUE YOUR SEARCH.
REJECT HATRED. EMBRACE LOVE.
ChosenAwake is based off an actual Deep Web site known as "How Will You Tell The World?". The in-game site shares many of the same symbols and overall design with it's real life parallel.
Despite how important it is, there will never be a red room code on this website.
Community content is available under
CC-BY-SA
unless otherwise noted.